What You Should Know About the Zinc Part Types. Due to its ductility and versatility, zinc (especially zinc alloys) has become a primary choice of manufacturers for die casting processes. Zinc parts types that come from zinc die castings are very useful for making new objects in various kinds of industries. Even golfers make use of zinc part types, since majority of golf clubs are produced from zinc die castings. Automobile parts and home hardware parts like lock housings used for security purposes also uses the zinc die casting process. Its durability is tried and tested, the main reason why all these industries make use of zinc part types for die casting. With the help of new and modern technological innovations and equipment, the products of the zinc die casting process give satisfactory results like perfect dimensions, right texture of surface and precise form even if the shapes are complex. Finishing touches for the surface of the zinc die casting include processes like polishing, powder coating, chrome plating and brass coating. Nickel plating can also be done to the zinc die cast. Normally, nickel plating is applied to give the zinc part types a smooth and shiny surface.
Examples and types of zinc part types include automotive castings, bathroom faucets, handles, hooks, aerospace parts, die-cast cars, die cast toys, fire alarms, faucets, covers, carburetors, heat sinks, kitchen hardware, door handles, decorations, flanges, motorcycle grips, knobs, pumps and pump handles, pump valves, pump rotors, fishing lures, golf club putters, power tools and so much more. All these are manufactured from one common process – zinc die casting.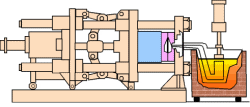 hot chamber zinc parts.
Blog Die Casting Zinc Company has information about Die Casting Zinc Company and Die Casting Parts. Look at this website page for more details: zinc die casting prices. Contact us at 800-524-8083 or email us at sales@diecastingzinc.com